Drug Testing
Promotional Tools
Promotion Tools
ASAM's new consensus document provides practical, evidence-based recommendations on the appropriate use of drug testing for the identification, diagnosis, treatment, and monitoring of patients with or at risk for substance use disorders (SUDs).

Key Findings: Drug testing should be conducted at least weekly at the start of treatment, and at least monthly for patients in stable recovery; however, individual consideration may be given for less frequent testing if a patient is in stable recovery. The document recommends that testing be performed on a random schedule, when possible.

We encourage you to share your prevention message on social media platforms such as Facebook, Twitter, Instagram, and LinkedIn.
Key Sample Messages
Suggested uses
Website and email banners to incorporate in your communications.
---
Share the Message:
Share our infographics in your social channels or publications
Add images and a small note to your email signature
Add images to your social media accounts and use #DrugTesting
Use content in Newsletters, Blogs and email blasts
---
Sample Promotion Messages
Sample Facebook/LinkedIn Posts:

ASAM has just released a new Consensus Document for the appropriate use of drug testing in clinical addiction medicine. The Consensus Document addresses a wide range of daily issues encountered in the process of drug testing, including the selection of tests and the appropriate response to test results. Read more: www.asam.org/DrugTesting

ASAM just released a new Consensus Document for the appropriate use of drug testing in clinical addiction medicine, which states drug testing should be done at least weekly at the beginning of treatment, and at least monthly for patients in stable recovery. Read more: www.asam.org/DrugTesting

Drug testing should be done at least weekly at the beginning of treatment, and at least monthly for patients in stable recovery according to ASAM's new Consensus Document Appropriate Use of Drug Testing in Addiction Medicine. Read more: www.asam.org/DrugTesting

Sample Tweets:
.@ASAMorg's new Consensus Document on #DrugTesting: testing should be done every 7 days @ the beginning of treatment www.asam.org/DrugTesting

.@ASAMorg's new #DrugTesting Consensus Document, to help determine how to appropriately drug test in a clinical setting. www.asam.org/DrugTesting

New Consensus Document for Appropriate Use of #DrugTesting in Clinical Addiction Medicine from @ASAMorg. Read more: www.asam.org/DrugTesting
Sample Announcements
Sample Blog/Email Posts:

A new Consensus Document from the American Society of Addiction Medicine (ASAM) provides practical, evidence-based recommendations on the appropriate use of drug testing for the identification, diagnosis, treatment, and promotion of recovery for patients with or at risk for substance use disorders (SUDs). Drug testing plays an important role in initial assessment, treatment planning, and monitoring of patients with addiction, across various treatment settings. However, the document emphasizes, "Drug testing should be only one of several methods of detecting substance use or monitoring treatment," including patient self-reports and other indicators. Read complete document: www.asam.org/DrugTesting

The Consensus Document Appropriate Use of Drug Testing in Addiction Medicine addresses a wide range of daily issues encountered in the process of drug testing, including the selection of tests and the appropriate response to test results. Urine tests remain by far the most common category of tests, but are also the most prone to tampering. The document recommends that drug testing should be done at least weekly at the beginning of treatment, and at least monthly for patients in stable recovery; however, individual consideration may be given for less frequent testing if a patient is in stable recovery. The document also recommends that testing be performed on a random schedule, when possible. Read complete document: www.asam.org/DrugTesting
Website & eMail Banners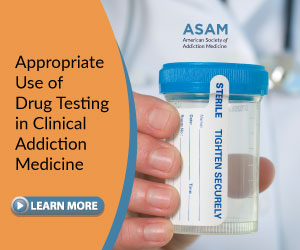 Use this link: https://goo.gl/FP99T5

Use this link: https://goo.gl/FP99T5

Use this link: https://goo.gl/FP99T5