The ASAM Criteria
Speaking the Same Language
A Toolkit for Strengthening Patient-Centered Addiction Care in the United States
Download Toolkit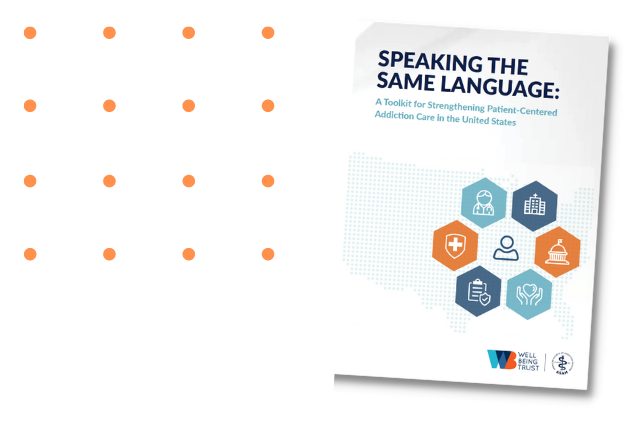 Why this Toolkit? Why Now?
In the face of the ongoing substance use disorder (SUD) crisis and rising overdose deaths, policymakers and other stakeholders continue seeking ways for improving SUD prevention and treatment services. While highly effective treatments for SUD are available, outcomes achieved in community settings rarely approach those that can be achieved in the best designed treatment systems. Historically, there has been significant heterogeneity across states and communities in the organization and oversight of addiction treatment systems. This has contributed to high variability in the quality of care and resulting patient outcomes.
---
"In 2020, there were more than 92,000 drug overdose deaths in America, a staggering, nearly 30 percent increase over the prior year, with the fastest increases in Black and Latino populations. And each year alcohol and tobacco contribute to hundreds of thousands of American lives lost."
---
One key strategy that states can deploy is ensuring that SUD treatment services are rooted in a well-defined, consistent approach for identifying the appropriate level of care for people with SUD. Such systems long have been in place for other chronic conditions, but the stigmatization of people with SUD historically resulted in them receiving little or no treatment or ad hoc treatment. Currently, with SUD prevention and treatment now far more likely to be covered, as well as an influx of federal dollars in response to the COVID-19 pandemic, it is more important than ever to establish a strong, consistent framework for evidence-based addiction care. The ASAM Criteria® provides a framework for organizing addiction treatment systems and a foundation for improving the quality of care and addressing the gap between the efficacy of treatment in clinical trials and effectiveness in real world settings. It is the most widely used set of evidence-based guidelines for patient placement, continued stay, and transfer of patients with addictive, substance-related and co-occurring conditions.

Download
"Speaking the Same Language: A Toolkit for Strengthening Patient-Centered Addiction Care in the United States," authored by Manatt Health Strategies, in collaboration with ASAM and Well Being Trust , is a first-of-its-kind resource that will:
Elevate
Elevate the need for adopting a common framework for addiction care, such as The ASAM Criteria, to ensure that everyone who provides, covers, or uses substance use disorder services is "speaking the same language".
Educate
Educate stakeholders about the diverse strategies and tools that are available to support more effective and comprehensive implementation of
The ASAM Criteria
.
Empower
Empower those seeking to build sustainable, quality, and integrated addiction treatment and coverage systems that can actually connect patients with substance use disorder and co-occurring conditions with the right care.
What's in the Toolkit?
This educational toolkit includes the following topics and more:
a comprehensive list of strategies and potential pathways that interested states can pursue for integrating The ASAM Criteria;
an overview of existing implementation tools;
examples from current state efforts, and
model legislative, regulatory, and contractual language from which interested states can draw.
By rooting addiction care in a common framework such as The ASAM Criteria, we can ensure that everyone is "speaking the same language" when it comes to substance use disorder prevention and treatment.
Download Toolkit