Board of Directors
Surita Rao, MD, FASAM
Biography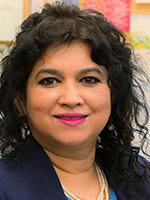 Surita Rao, MD is an associate professor and director of the psychiatry residency training program, at the University of Connecticut Medical School, Department of psychiatry. She is a psychiatrist specializing in addiction.
Her career has focused on patient care, administration, and teaching. She completed Medical School at Bankura Sammilani Medical College in India and did her psychiatry residency and fellowship training at St. Vincent's Hospital in New York, New York Medical College and the Department of Psychiatry, Yale University School of Medicine.
She has been on the faculty at Yale and Emory Universities and worked with a private practice group in Atlanta. Upon completing her fellowship training, she worked as the Medical Director of the methadone maintenance clinics at Yale University School of Medicine. She has worked with impaired physicians and other health care professionals.
From December 2002 through October 2014, she was the Chair and Director of the Behavioral Health Service Line at Saint Francis Care. She has done statewide, regional, and national presentations in the field of psychiatry and addiction psychiatry including participation in several ECHO projects. She has done numerous media appearances in local and national media [radio and television] and had her own radio show on Voice America "Mental Health with Dr. Surita Rao".
Dr. Rao has served on the Board of Directors for the American Society of Addiction Medicine [ASAM] and serves on several national ASAM committees. She is past president of the CT chapter of ASAM. Dr. Rao was chair of the physicians' health committee at Saint Francis. She has also served on the Board of the Root Center in Connecticut. She did a variety of media appearances on television and radio over her career, including appearances on CNN and a pilot series of a radio show on Voice America Internet radio: " Mental Health with Dr. Surita Rao". Podcasts can be found online and through iTunes.