Blog
Distinguished Fellow Recognition Advances NYU Grossman School of Medicine Alumni's Career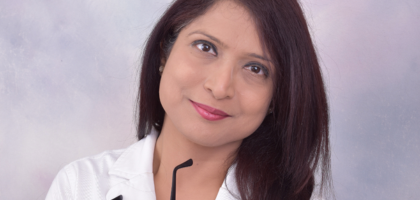 A former NYU Grossman School of Medicine Fellow has taken her career to the next level since becoming a distinguished fellow (DFASAM) with the American Society of Addiction Medicine (ASAM). Indra Cidambi, MD, DFASAM, a board-certified addiction psychiatrist and addiction medicine specialist, earned the prestigious honor in April 2022. "I am humbled and grateful for this recognition," Dr. Cidambi said. "It will be a source of inspiration to give back more to the ASAM community."
Since Dr. Cidambi started practicing addiction medicine in 2005, she has found the field incredibly rewarding. "I work seven days a week, and I'm enjoying my life," she said. "I derive great satisfaction from being easily accessible to patients because I have found that to increase treatment compliance and help deliver better outcomes. And patients have noticed!" Her patients often ask her: "Don't you get tired?" Dr. Cidambi's reply is, "No. Do you ever get tired of listening to music, watching movies, or indulging in your hobby? I enjoy my work just the same way. It's not a job to me."
The Rewards of Treating Addiction Medicine

Despite the stigma surrounding addiction and those struggling with the disease, Dr. Cidambi said she has found the patient population to be inspiring. "Individuals afflicted with addiction are no different from other people. They are very intelligent and talented, and they challenge you in different ways," she says. "It's gratifying to see them improve before your very eyes and start achieving meaningful milestones in life, such as getting back into the workforce, getting married, buying a house, or having kids," she adds. Dr. Cidambi feels that addiction treatment, if done right, is analogous to surgery, because results are visible in a relatively short period of time.
Dr. Cidambi revealed that every Thanksgiving or New Year's Day, she gets text messages from past patients or their family members thanking her for the difference she has made in their lives. "It is amazing to feel this appreciation," she said. "It is the fuel that propels me every day."
Given the prevalence of addiction in our population, Dr. Cidambi encourages others in the medical field to consider practicing addiction medicine, not only because the population is underserved, but also because it is very fulfilling. She believes all physicians should gain insight into the field in order to intervene early when they see signs of addiction in their patients. "Addiction medicine is a challenging profession and it is a relatively new and growing field," she said. "As an addiction medicine specialist, you can make a huge difference in people's lives and give back in heaps to the community. What else can a physician ask for?" she concludes.
What Does a Career in Addiction Medicine Look Like?

Dr. Cidambi received her medical degree from Second Tashkent State Medical Institute in the former Soviet Union. In 2004, she completed her residency in psychiatry at Maimonides Medical Center in Brooklyn, New York. Several years later, she completed her fellowship in addiction psychiatry through the NYU Grossman School of Medicine at New York University/Bellevue Hospital in New York City. She is board certified in general psychiatry and double board certified in addiction medicine from the American Board of Addiction Medicine and the American Board of Psychiatry and Neurology.
Dr. Cidambi now serves as the Medical Director at the Center for Network Therapy (CNT), which she founded. Ten years ago, she pioneered the "Outpatient Detox" modality of care for substances, alcohol, anesthetics, benzodiazepines, and opiates, which helps increase access to addiction treatment and lower the stigma associated with the disease of addiction. CNT has three detox centers in New Jersey: Middlesex, West Orange, and Freehold. The centers provide outpatient detoxication and withdrawal management from all substances, as well as lower levels of care.
Previously, Dr. Cidambi has worked as the director of chemical dependency at Summit Oaks Hospital and as an attending physician at Carrier Clinic, in both major inpatient detoxification and withdrawal management facilities in New Jersey. Dr. Cidambi has also served as the president of the New Jersey Society of Addiction Medicine (NJSAM).