ASAM supports a wide variety of measures to prevent alcohol- and other drug-related problems.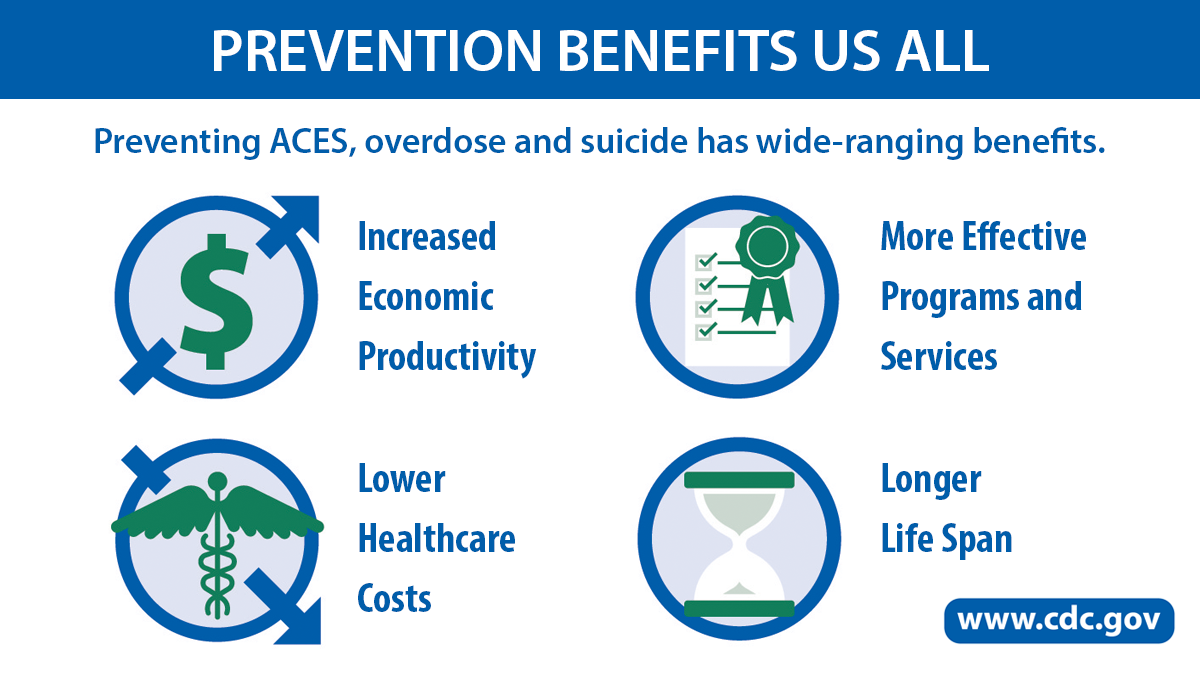 In total, alcohol, tobacco and illicit drug use exacts more than $700 billion annually in costs related to crime, lost work productivity and health care. For every $1 invested into prevention and early treatment programs, up to $10 can be saved in costs related to substance use disorders.
Carefully thought-out prevention measures have demonstrably reduced the early onset of alcohol, tobacco and other drug use and addiction in some populations and contributed to a reduction in deaths and serious injury resulting from drug-related illnesses and accidents.
ASAM advocates for public awareness of addiction as a chronic disease, the inclusion of education related to addiction in medical and other health professional school curricula, mandatory training for all prescribers of controlled substances and expanded use of naloxone as measures that can help prevent risky substance use, the disease of addiction and related overdose deaths.
---
Exposure to adverse childhood experiences, overdose, and suicide are urgent public health challenges confronting every community in the country. These challenges contribute to shortened life span, lower quality of life, rising healthcare costs, lost economic productivity and strain on our social service system that affects all of us.
---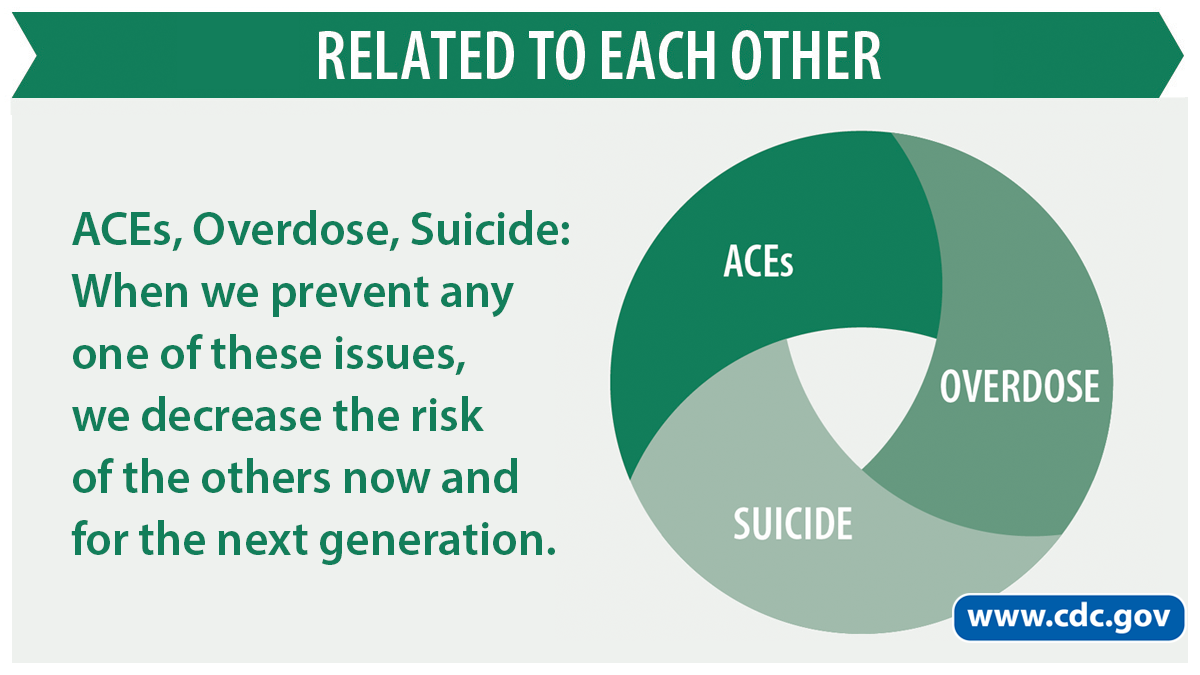 These challenges are related because adverse childhood experiences increase the risk of overdose and suicide later in life. And for children, losing a loved one to suicide or overdose are adverse childhood experiences, the risk of future overdose or suicide grows. As such, ACEs, overdose and suicide are each associated with the other and the impact lasts across generations.
---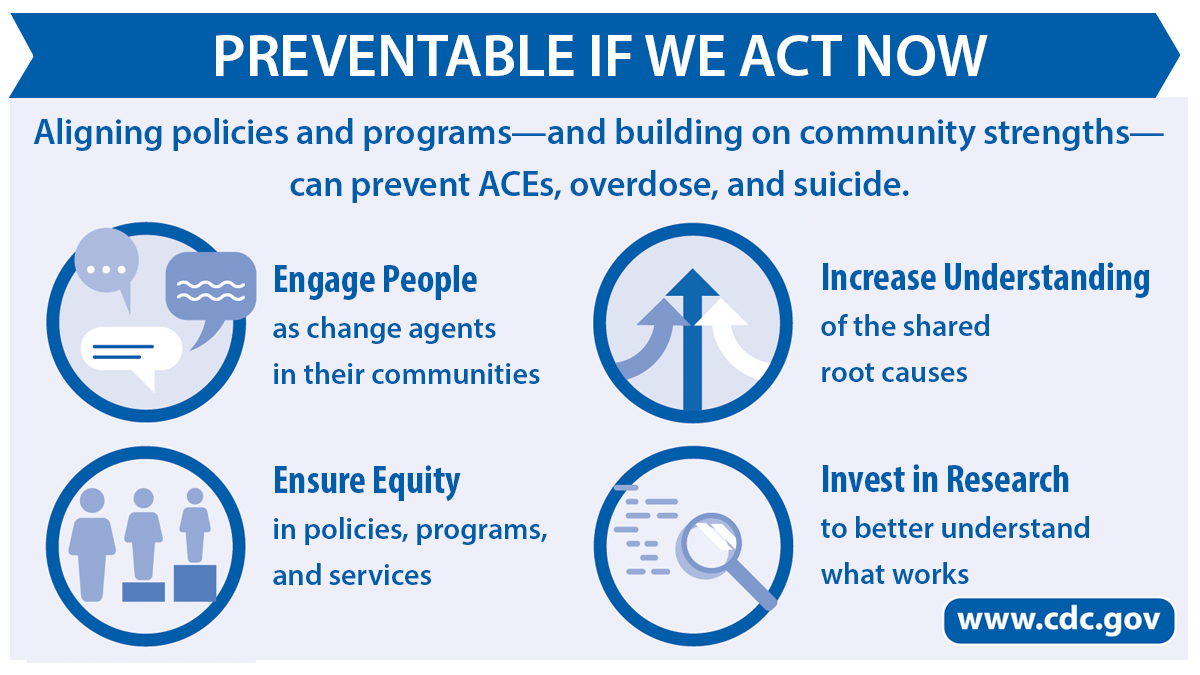 Fortunately, these three crises are preventable if we take a comprehensive public health approach that addresses the complex and often related challenges that impact health. By building on community strengths—and focusing not just on treatment, but also on prevention—we can meet the immediate needs of those already affected, today, while preventing future risk and negative health outcomes, tomorrow. Equip yourself with the information you need to make a lasting change in your community by reading the CDC's Fact Sheet, and answer any lingering question you might have by exploring the CDC FAQ document.
---
---
Public Policy Statement on Prevention
ASAM will release an updated public policy statement on Prevention in October 2023.
---
Healthcare Provider Resources
Learn more about ASAM's recommendations regarding the prevention, treatment, and insurance coverage of HCV.
Learn more about ASAM's recommendations and broader policy position regarding naloxone use and access.

The AMA Substance Use and Pain Care Task Force has published recommendations for addressing the changing drug overdose epidemic.
The U.S. Department of Health and Human Services has released guidance for healthcare providers and patients detailing how naloxone can help save lives and should be prescribed to all patients at risk for opioid complications, including overdose.
---
INFECTIOUS DISEASE PREVENTION
Prevention Policy Resources
Sponsored by the Partnership to End Addiction, the Medicine Abuse Project aims to educate families and communities on how they can safeguard themselves from the devestation of heroin and other opioids and the abuse of prescription and over-the-counter medications.
CADCA is a membership organization representing those working to make their communities safe, healthy and drug-free.
---
School, Family, and Community Resources
The Centers for Medicare and Medicaid Services (CMS) and the U.S. Department of Education (DOE) have issued a School-Based Services (SBS) Comprehensive Guide to Medicaid Services and Administrative Claiming, which encompasses direct medical and administrative guidance to improve the delivery of covered Medicaid and Children's Health Insurance Program (CHIP) services in schools, including preventive care and mental health and substance use disorder (SUD) services.
State Medicaid/CHIP agencies are urged to review the guide and collaborate with state education partners to make it easier for schools to deliver and receive payment for critical health care services. The guide clarifies and consolidates CMS guidance on how to meet federal statutory and regulatory requirements, builds on guidance CMS issued to States on August 18, 2022, and includes a series of new flexibilities on billing, documentation, and time studies that State Medicaid agencies can adopt to ease the administrative burden of SBS for local education agencies.
Together, CMS and DOE recently also launched the SBS Technical Assistance Center to assist stakeholders to implement SBS flexibilities and requirements, and further enhance or expand SBS programs. The Center supports State Medicaid agencies, local education agencies, and school-based entities, to increase their capacity for providing Medicaid SBS and obtaining payment for the rendering of Medicaid SBS, and it provides guidance regarding the utilization of various funding sources.
The Substance Abuse and Mental Health Services Administration (SAMHSA) and the Centers for Medicare & Medicaid Services (CMS) issued this Joint Informational Bulletin to provide the public, including states, schools, and school systems, with information about addressing mental health and substance use issues in schools.
This advisory issued by the Surgeon General encourages more individuals, including family, friends, and those at risk for opioid overdose, to keep on hand naloxone, an FDA-approved medication that can reverse opioid-induced respiratory depression.
The Drug Enforcement Agency (DEA) released this resource to educate consumers and caregivers on the importance of removing expired, unwanted, or unused medicines from their home as quickly as possible to help reduce the chance that others accidentally take or intentionally misuse the unneeded medicine, and to help reduce drugs from entering the environment.