Background
Between 65-87% of patients in addiction treatment smoke tobacco, compared to about 21% of the general population. These high rates of tobacco use contribute to significant patient suffering and early death. Over 53% of people with substance use disorder (SUD) die of tobacco-related causes. Most of these deaths occur before age 60, while only about 30% of the general population die of tobacco-related deaths and typically after age 70. Highly effective interventions that target tobacco use are available; however, they are not sufficiently integrated into addiction treatment programs.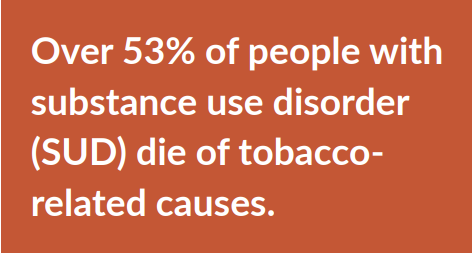 Common misconceptions have limited the use of tobacco use disorder interventions in addiction treatment settings. Many clinicians mistakenly believe that encouraging patients to address their tobacco use disorder may disrupt the treatment for other SUDs. However, research has clearly demonstrated the efficacy of treating tobacco use disorder in parallel with other SUDs.

Providing evidence-based treatment for tobacco use disorder during addiction treatment is associated with a 25% increased likelihood of long-term abstinence from alcohol and illicit drugs. Yet, in a recent national-level survey study, only 64% of the patients in substance use disorder (SUD) treatment were screened for tobacco use, and less than one in four facilities offered evidence-based pharmacotherapies to help them quit tobacco.
Continued tobacco use corresponds to poorer addiction treatment outcomes, including a higher likelihood of relapse to substance use. The integration of tobacco-related services into addiction treatment can improve treatment outcomes, promote recovery, and reduce the well-established harms of ongoing tobacco use, including tobacco-related death and disease.
See guideline for citations.
Read A Story About The Project
Literature Review & Funding
Funding for this guidance was provided by the University of California San Francisco (UCSF) Smoking Cessation Leadership Center. The Tobacco Guidance Committee members, listed below, applied and were selected by ASAM's Quality Improvement Council (members listed below). A targeted literature review was conducted on the evidence regarding the treatment of tobacco use disorder during addiction treatment and was used to inform the deliberations of the committee. The final document was reviewed and approved by the ASAM Quality Improvement Council.
Tobacco Cessation Guidance Committee
Alta DeRoo, MD, FASAM
Susan K. Blank, MD
Lori D. Karan, MD, DFASAM, FACP
Michael Weaver, MD, DFASAM

ASAM Quality Improvement Council
Ken I. Freedman, MD, MS, MBA, FACP, AGAF, DFASAM (Chair)
Michael P. Frost, MD, DFASAM, FACP
R. Jeffrey Goldsmith, MD, DLFAPA, DFASAM
Barbara Herbert, MD, DFASAM
Margaret Jarvis, MD, DFASAM
Navdeep Kang, Psy.D.
Tami Mark, PhD, MBA
P. Stephen Novack, DO
Sandrine Pirard, MD, PhD, MPH, FAPA, FASAM
Melissa B. Weimer, DO, MCR, FASAM
ASAM Staff & Author Contribution
Literature Search and Evidence Summary: Annie Kleykamp, PhD, Sarah Pocock, and Taleen Safarian
First Draft: Annie Kleykamp, PhD and Maureen Boyle, PhD
Revisions: Expert Committee (Drs. DeRoo, Blank, Karan, Weaver), Quality Improvement Council, Annie Kleykamp, PhD, Maureen Boyle, PhD
Final approval: Quality Improvement Council