News
ASAM Holds Second Annual State Advocacy Summit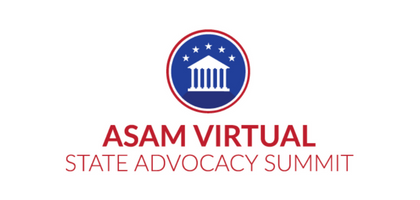 On October 14th, ASAM held its second annual virtual State Advocacy Summit for state chapter members. This three-hour, members-only event was divided into five main sessions and included ASAM members from 33 states, who represent 32 of ASAM's state chapters.
Below is a brief recap of the key agenda items and announcements:
AMAN 2022: | Mid-term Election 2022: State of the Race and the Possible Impacts on Addiction Medicine
ASAM staff members Corey Barton and Parker Baird previewed the upcoming midterm elections at both the federal and state levels and outlined their potential implications for addiction medicine.
2022 Key Developments & Emerging Issues: A Moderated Panel
ASAM President-Elect Dr. Brian Hurley moderated an expert panel comprised of Dr. Hendree Jones, Dr. Malik Burnett, and Dr. Brian Clear. The panel shared their perspectives on timely issues in the addiction policy landscape such as substance use and substance use disorder among pregnant and postpartum people, overdose prevention, and access to telehealth. This session followed the release of two new ASAM Public Policy Statements on telehealth and substance use among pregnant and postpartum people.
A Conversation with the Office of National Drug Control Policy (ONDCP)
Assistant Director Beth Connolly of the Office of National Drug Control Policy (ONDCP) delivered remarks about the Biden-Harris administration's drug control policy and shared resources for state advocates.
Looking Forward: 2023 State Legislative Sessions
ASAM Advocacy and Government Relations staff facilitated four, regionally based breakout groups of summit attendees. These groups allowed members to discuss areas of focus for state chapter advocacy and how ASAM Advocacy can best assist.
ASAM State Advocacy: Resources for State Chapters
ASAM staff members Parker Baird and Amanda Drago introduced new state advocacy resources and opportunities including a dedicated community for states advocates on the ASAM Connect platform, and three new advocacy guides. ASAM also debuted the new ASAM State Advocacy Learning Collaborative (SALC). The SALC will hold its first call in January 2022. The SALC is a resource for ASAM state advocates to coordinate with peers, share policy updates, and establish best practices for state advocacy.
A full recording of the event and associated resources can be found here.
You can stay updated about the latest information and the first meeting of the SALC by subscribing to the ASAM Advocate and the State Advocacy Learning Collaborative on ASAM Connect.