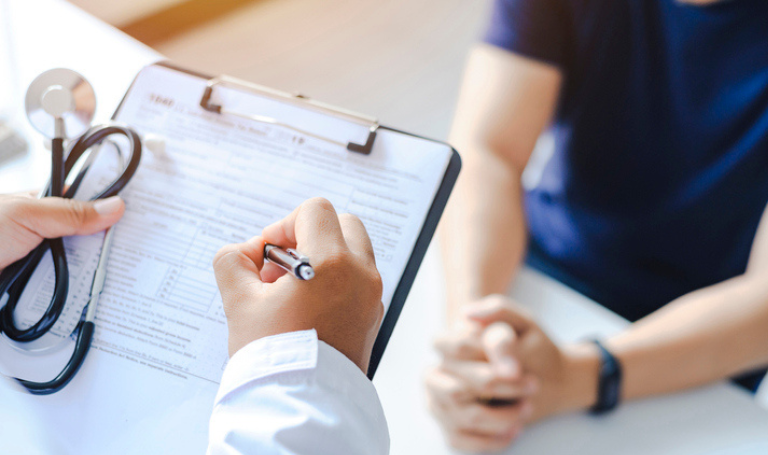 ASAM

4th Edition Development

Over the past three years, ASAM and Editor in Chief, R. Corey Waller, MD, MS, FACEP, DFASAM, have been working with editors, writing groups, councils and committees, and public stakeholders to develop the Fourth Edition of The ASAM Criteria® using a more rigorous methodology for evidence review and formal consensus development.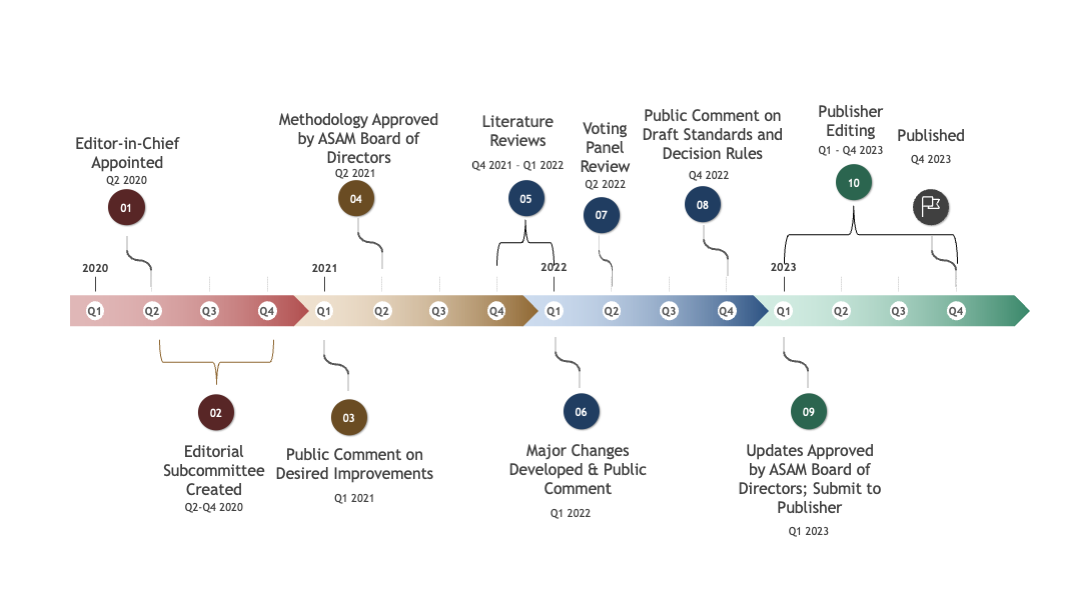 ---
Summary of Major Changes to The ASAM Criteria 4th Edition
The methodology for updating The ASAM Criteria standards has included:
Completion of 17 structured literature reviews
Convening of 17 writing groups to draft standards
Modified Delphi process with independent voting panels (with no - low COI) rating the appropriateness of each standard
Reconciliation of voting panel feedback
---

Stakeholder Engagement
Throughout the course of development, ASAM has sought input from diverse stakeholders including providers, policymakers, payers, patients, and families to ensure the updates are responsive to the needs of addiction treatment systems across the country.

In March 2021, ASAM released a survey on what is working well in the implementation of The ASAM Criteria and what could be improved in the next edition. The feedback received, along with the editors' knowledge and clinical experiences, informed the framework of proposed major changes to the fourth edition.

In December 2021, ASAM released a preliminary framework of proposed major changes for stakeholder feedback to understand any potential unintended consequences of those changes. The feedback received was instrumental in the writing groups' development of the draft standards and in finalizing the major changes that were approved by the Board of Directors in January 2023.

In October 2022, ASAM released the full set of draft standards and decision rules for public comment. The Editorial Subcommittee and writing groups systematically reviewed and responded to each comment and edited the proposed standards where appropriate. The final standards were approved by the ASAM Quality Improvement Council and the ASAM Criteria Strategy Committee in February 2023.

Following the rollout of the fourth edition, ASAM will continue seeking input from public stakeholders who utilize The ASAM Criteria to implement annual updates and improvements to the ebook.
Subsequent 2024-2026 Volumes
Adolescent and Transition Age Youth (anticipated 2024)
Addiction Treatment within Jails and Prisons (anticipated 2025)
Behavioral Addictions (i.e., gambling, internet and gaming addiction, sex addiction) (anticipated 2026)
Sign up for updates on future volumes->

Questions? ASAMCriteria@ASAM.org
*Identifying questions have been removed from the feedback responses shared here in an effort for anonymity.
Editorial Subcommittee
Corey Waller, MD, MS, FACEP, DFASAM (Editor-in-Chief)
Steven Daviss, MD, DFAPA, FASAM
Ayman M. Fareed, MD, DFAPA
Sandra Gomez-Luna, MD, FASAM
Edward James III, DSW, MSW, ACSW, LMSW, MPM
Kimberly Johnson, PhD
Navdeep Kang, PsyD, HSP
Whitney Menarcheck, LPC
Wendy Welch, MD, MBA, FASAM