Board of Directors
William F. Haning, III, MD, DLFAPA, DFASAM
Biography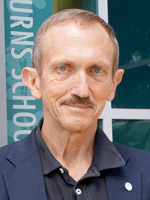 William F. "Bill" Haning, III, MD, DLFAPA, DFASAM is a formerly-tenured, now Emeritus Professor of Psychiatry. He retired as Director of M.D. Programs (Undergraduate Medical Education) in the Office of the Dean at the University of Hawaii's John A. Burns School of Medicine in 2017. He continues to direct residency training and research programs in Addiction Medicine and Addiction Psychiatry. He is certified in Psychiatry, Addiction Psychiatry, and Addiction Medicine, has received several teaching awards, chairs or sits on community service boards (Hawaii Program for Healthcare Providers, Pacific Health Education & Research Institute/PHREI), and is Principal Investigator for the Pacific Addiction Research Center (PARC®) which serves the State's DWI Court initiative. He is a Regent of the University of Hawaii (2021-2027).
From 2003-2019 he sat on and subsequently chaired the Examination Committee for Addiction Psychiatry of the American Board of Psychiatry and Neurology. He holds an A.B. (Philosophy) from Princeton University and an M.D. from the University of Hawaii at Manoa. He is an elected Member of the American College of Psychiatrists, a Distinguished Fellow of the American Society of Addiction Medicine, and a Distinguished Life Fellow of the American Psychiatric Association. His clinical services include or have included the general population in emergency medicine for 12 years, two residential SUD treatment facilities (one civilian, one Dept. of Defense) as Medical Director, and community psychiatric patients. He came by his career as many in the Society have, both as a clinician and as a recipient of care.
Bill has been fortunate. He has received teaching awards inclusive of the APA's Nancy C.A. Roeske Certificate, the John M. Hardman Award for Mentorship from the John A. Burns School of Medicine of the University of Hawaii, the Leonard Tow Humanism in Medicine Award, and the University of Hawaii Regents' Medal for Excellence in Teaching. He has chaired or just plain worked for several community service boards. In 2014, the Hawaii Medical Association designated him Hawaii's Physician of the Year. IN 2019, he received the ASAM Annual Award for service and leadership. The Force Surgeon (medical director) 2001-2007 for both U.S. Marine Forces Pacific and for Marine Forces Central Command in Operation Iraqi Freedom, Bill served subsequently as the Division Psychiatrist, 4th Marine Division. A Captain in the Navy Reserve, he transferred to the Fleet Reserve in 2009 and continues as the Professional Services Liaison Officer for Hawaii; his awards include the Legion of Merit.
Dr. Haning has been an AMSAODD and ASAM member since 1988 and was a founding member of the Hawaii Society of Addiction Medicine, serving as its President intermittently. He is currently President of the ASAM Board of Directors and Editor-in-Chief of The ASAM Weekly. Other organizational memberships include AAAP, AMERSA, APA, AMA, ACP, ISAM, AADPRT, COPE, and AMSUS.
His professional interests include stimulant use disorders (methamphetamine), forensic addiction medicine, and public policy, as well as development of training programs. His primary passion was constructing and directing the neuroscience curriculum for the John A. Burns School of Medicine of the University of Hawaii. Present projects include establishment of an addictions policy and education institute in Hawaii (Center for Addiction Medicine Pacific, CAMP®), and beginning a curriculum in the history of medicine.
He spends a lot of time trying to defeat age through exercise, which seems only to wear him out; and an equal amount of time trying to understand humanity by reading history, which only raises more questions. He lives in Manoa Valley in Honolulu where he is the undeserving spouse of the remarkable Dr. Libby Char, Assistant Clinical Professor of Surgery in Emergency Medicine and Director, Hawaii State Department of Health.