ASAM is proud to work collaboratively with others to improve the lives of those living with addiction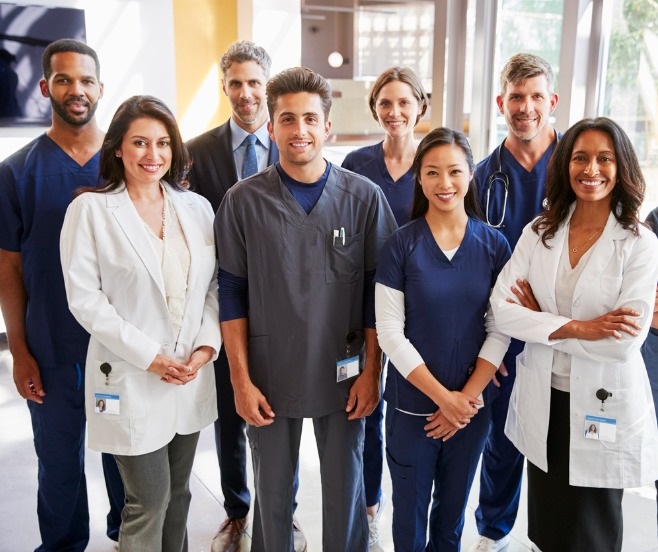 ---
A coalition of over 20 health care stakeholders committed to aligning 42 CFR Part 2 with HIPAA to allow appropriate access to patient information that is essential for providing whole-person care.
---
Numerous state and federal officials have urged physicians and other health care professionals to show the necessary leadership to confront the nation's opioid epidemic. The AMA Opioid Task Force agrees that physicians have a professional obligation to reverse the epidemic.
---
ASAM has two, appointed representatives to Association of American Medical Colleges (AAMC)'s Council of Faculty and Academic Societies (CFAS). CFAS identifies critical issues facing medical school faculty and academic societies and serves as a voice for both constituencies within AAMC's leadership and governance structures.
---
The Friends of the National Institute on Drug Abuse is a coalition of individuals, scientific and professional societies, patient groups and other organizations committed to the elimination of drug abuse and addiction through education, advocacy, and the promotion of broad public and private support for the research agenda of the National Institute on Drug Abuse. The Friends of the National Institute on Drug Abuse advocates for a level of resources for NIDA that reflects the tremendous personal, social and economic burden of drug abuse and addiction.
---
Like the National Institute on Alcohol Abuse and Alcoholism, the Friends of NIAAA are concerned with why, when and how people drink; why some people develop alcohol use disorders; how the consequences of harmful drinking affect individuals, their families and society; how alcohol affects the development of young brains and bodies; and how prevention, treatment and recovery programs can be improved.
---
Tobacco Partners Coalition
Tobacco Partners Coalition (Tobacco Partners), spearheaded by the Campaign for Tobacco-Free Kids, is composed of more than 50 organizations whose goal is to protect public health and reduce the incidence of smoking in the US come together quarterly to discuss federal legislative and regulatory issues of common interest. The Partners tackle a number of issues on a variety of smoking-related topics that have an overall impact in protecting children, youth and adults from the consequences of tobacco use. Some of the examples are discussed below.
---
The Coalition for Whole Health (CWH) was created to be the lead entity for legislative action around health reform. The Whole Health Campaign (WHC) was created during the 2008 presidential campaign to promote the importance of mental health and substance abuse issues in campaign platforms. In June 2010, the CWH and WHC merged into one organization to maximize advocacy efforts for the inclusion and coverage of mental health and substance use disorder prevention, treatment, rehabilitation and recovery in the implementation of health care reform.
---

The Mental Health Liaison Group (MHLG) is an advocacy coalition on mental health issues. MHLG was formed in May 1969 by the American Medical Association, American Psychiatric Association, National Association for Retarded Citizens, National Association of State Mental Health Program Directors and the National Mental Health Association. Shortly after its formation, the American Psychological Association joined the group and others soon followed.
---
The AAMC leads an informal GME Advocacy Coalition of over 70 individual hospital, physician, and health care advocacy associations and societies focused on promoting graduate medical education. The Coalition meets via monthly conference calls and semi-annual meetings to strategize and mobilize around the pressing issues facing graduate medical education and health care workforce.
---
The Friends of the Health Resources and Services Administration is an advocacy coalition of more than 175 national organizations, collectively representing millions of public health and health care professionals, academicians and consumers. Member organizations strongly support the programs at HRSA designed to improve health and health equity by strengthening the health workforce and increasing access to quality health care for those who are medically underserved or face barriers to needed care.
---
Sound the Alarm for Kids seeks to raise awareness of the national emergency in child and adolescent mental health accelerated by the pandemic. Partners support policies which promote social and emotional health for children from infancy through adolescence and enhance their access to culturally and developmentally appropriate mental health care when they need it. Partners stand together to call for bold action to meet the challenges of this crisis and build a future where all children can receive the mental health support they need to learn, grow, and thrive.
---