Board of Directors
Lori D. Karan, MD, FACP, DFASAM
Biography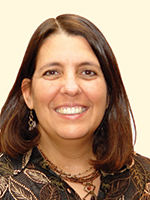 Lori D. Karan, MD, FACP, DFASAM is Professor of Internal Medicine and Preventive Medicine and at the Loma Linda University School of Medicine and the VA Loma Linda Healthcare System. Six months after arriving at Loma Linda University, Dr. Karan authored an ACGME application for an Addiction Medicine Fellowship, building upon work of Dr. Mickey Ask. The Loma Linda Fellowship now hires, trains, and graduates 6 Fellows each year. Together, we are developing addiction services, faculty, and a community of skilled, empathic physicians to care for Southern California's underserved.
Dr. Karan is certified by the American Board of Internal Medicine and by the American Board of Preventive Medicine in Addiction Medicine. She is Fellow of the American College of Physicians and a Distinguished Fellow of the American Society of Addiction Medicine (ASAM). Dr. Karan served as Treasurer and Publications Chair of ASAM from 2011-2015.
Dr. Karan has had a varied career which began in 12-step treatment programs and has spanned to methadone maintenance and private practice addiction medicine. She obtained a Career Scientist Development Award from NIDA and spent 10 years on the UCSF faculty performing mechanistic and drug development research. She co-chaired annual Nicotine Research Roundtables 1991-1999, which spawned the Society of Research on Nicotine and Tobacco (SRNT). Prior to her current work at Loma Linda University, Dr. Karan was a primary care physician for the California Department of Corrections and Rehabilitation (CDCR) 2009-2012, and Medical Director of Hawaii's Prisons and Jails, 2012-2015.
Dr. Karan is passionate not only about furthering the evidence-based practice of addiction medicine, but about keeping our current leaders engaged in ASAM, promoting a healthier workplace, and developing the next generation of trailblazers in addiction medicine.