Board of Directors
Emily Brunner, MD, DFASAM
Biography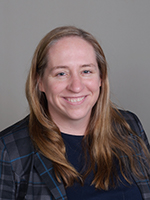 Emily Brunner, MD, DFASAM is board-certified in family medicine and a distinguished fellow in the field of addiction medicine. She has experience treating addiction in both inpatient and outpatient settings. She is an experienced speaker and specializes in trauma-informed clinical treatment of substance use disorders with a comprehensive and compassionate approach.
Dr. Brunner has been involved in leadership of the Minnesota Society of Addiction Medicine and is now on the national board of the American Society of Addiction. She is a passionate advocate for improving the care of patients with substance use disorder across the healthcare system, and specifically in advocating for increased utilization of medications for opioid use disorder across all levels of care.
She has also been recognized as a Top Doctor for addiction medicine by Minnesota Magazine in 2020 and 2021. She is medical director of Gateway Recovery and Recovering Hope and does trainings on behalf of Hazelden Betty Ford Foundation.
Dr. Brunner also has a strong interest in treatment of internet gaming disorder as well as gambling disorder.