Alternate Regional Directors
Frank P. James, MD, JD, FACLM, DFASAM
Biography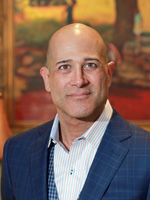 Dr. James is board certified in General, Child & Adolescent and Forensic Psychiatry by the American Board of Psychiatry and Neurology. Additionally, Dr. James is Certified in Addiction Medicine by the American Board of Addiction Medicine and by the American Board of Preventive Medicine. He earned his Law and Medical Degrees at Southern Illinois University. Dr. James is a member of both the Ohio and Illinois Bar. He is a Veteran of the United States Army, having completed his Internship and Residency in General Psychiatry at Walter Reed Army Medical Center, and Fellowships in Child and Adolescent Psychiatry at The Children's Hospital of Philadelphia and Forensic Psychiatry at the University of Cincinnati School of Medicine.
Currently, Dr. James is the President of Behavioral Health Services Consulting, a company dedicated to improving reimbursement and supporting evidence-based treatment for substance use disorders consulting with smaller health plans that do not have a dedicated behavioral health medical director. In addition to his consulting work, from 2011 – 2019, Dr. James served multiple leadership roles within United HealthCare/Optum Behavioral Health most recently as the Behavioral Medical Director for Case Management services. Dr. James was the leading SUD and OUD Subject Matter Expert in the development of the Urine Drug Test benefit policy for United HealthCare. He led initiatives for SUD and OUD MAT Network expansion and the Medications for Addiction treatment (MAT) formulary management with treatment integration. He was the behavioral health consultant for Optum Rx and Optum Labs. In this capacity he was the subject matter expert in Optum's development of the MAT Alternative Payment Models (APM) for the treatment of OUD. He led Optum's implementation of the American Society of Addiction Medicine Criteria as the benefit guidelines now used nationally for all commercial and public sector books of business. Dr. James also provides direct patient care in an outpatient office -based setting in Connecticut. He believes that is it critically important to understand the needs of patients and their families during this unprecedented time in our country.
Dr. James is a Distinguished Fellow and active leader within the American Society of Addiction Medicine (ASAM) organization. Currently, he sits on the ASAM Board of Directors. He assisted in the development of ASAM's Public Policy on Hepatitis C treatment to include integration within SUD treatment programs. In 2020, Dr. James served as Chair of ASAM's newly founded Practice Management and Regulatory Affairs Committee, which is responsible for responding to regulations and policies that impact addiction prevention, treatment, and recovery created by federal regulatory agencies, public and private payers, and purchasers of health care goods and services. From 2014 through 2019, Dr. James was a founding member, Vice Chair, and Chair of the Payor Relations Committee. He also served on both the Legislative Action and Finance Committees. Dr. James made significant contribution to the development of the ASAM Patient – Centered Opioid Addiction Treatment (P-COAT), an APM in response to the increased rate of OUD.