News
New ASAM Criteria Implementation Guide provides a practical tool to help implement ASAM Criteria®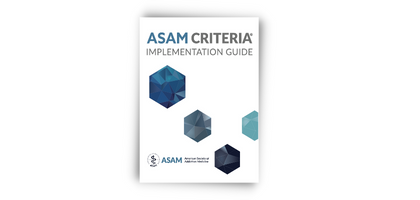 The ASAM Criteria Implementation Guide addresses the need of treatment programs and systems of care to have a practical tool to help implement the standards found in The ASAM Criteria® 
The American Society of Addiction Medicine (ASAM) celebrates the release of The ASAM Criteria Implementation Guide, a practical approach for treatment programs and systems of care to integrate The ASAM Criteria® into clinical operations, to improve quality of care in manageable increments, and to find a balance between fidelity to standards and flexibility to meet the needs of patients.
The ASAM Criteria has become the most widely used and comprehensive set of guidelines for the placement, continued stay, transfer, and discharge of patients with addiction and co-occurring conditions. It is the foundation of addiction treatment reform efforts across the country.
The ASAM Criteria Implementation Guide is the newest tool created by ASAM to support effective implementation of The ASAM Criteria by treatment programs. This tool is compatible with the currently available 3rd Edition as well as the upcoming 4th Edition of The ASAM Criteria. The ASAM Criteria Implementation Guide helps programs improve their quality of care, using the Niatx model, by breaking down processes into manageable increments aligned with each program's unique goals and challenges. It uses the ASAM Principles to describe characteristics that should be common to all treatment programs while setting parameters for flexibility. The ASAM Criteria, in contrast, functions as a model for the expected specifics of care and of care delivery.
We thank all treatment programs that have initiated efforts to implement The ASAM Criteria into their standard practices to become even more patient-centered and evidence-based. ASAM hopes the new ASAM Criteria Implementation Guide will provide additional support and encouragement for treatment programs and systems of care working toward The ASAM Criteria.
Questions and More Information:
For questions about The ASAM Criteria Implementation Guide please contact asamcriteria@asam.org. 
To purchase The ASAM Criteria Implementation Guide click here